Welcome to the Mid-Autumn Festival, I am face to face with the model worker
---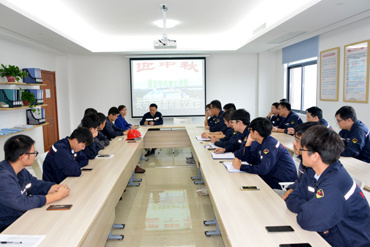 On September 21, the Youth League Committee of Nanjing Port Machinery Heavy Industry convened the company's single youth and model workers to hold a "face-to-face with model workers" exchange seminar. Zhu Ting, executive vice president of the company, and national model workers Sha Xi Lansha, Nanjing model worker Zhang Chuanping, and more than 20 young people attended the exchange meeting.
At the exchange symposium, Sha Lamo shared with the single young man her growth process after entering the factory. She continued to gain and grow in confusion. All of this stemmed from being down-to-earth in her work. Young people should be calm and calm in their existing positions. Be realistic and excellent, and the accumulation of quantitative changes can lead to qualitative changes. At the same time, she also exchanged interesting things in life with single young people.
Zhang Chuanping, a city model worker, said: Young people should work hard to overcome their impulsive mentality, do a good job down-to-earth, and improve their professional quality and professional skills. Opportunities are for those who are prepared. I hope to see everyone show their talents on the platform of Nanjing Port Machinery Heavy Industry. Zhu Ting, executive vice president, asked young people to be a person first, and then do things. They must set their own goals, forge ahead, be a caring person in their work, be good at discovering their own shortcomings, and be good at developing themselves.
这里是占位文字
Follow us
---
Copyright© 2022Nanjing Gangji Heavy Industry Manufacturing Co., Ltd